ARTCURIAL Auction
An important sale will take place in Paris on 23 March at 6pm at Artcurial at the Rond-Point des Champs Elysées.
Several masterpieces are already on display in the magnificent salons of this private mansion that once belonged to Marcel Dassault and will be sold there, including a Chardin, a Murillo, a Preti and … 2 gigantic and extraordinary paintings by Gabriel Loppé, a view of the Mer de Glace and a Matterhorn from the Gornergrat, 2 panoramic canvases painted in 1874.
Artcurial has called upon the talents of William Mitchell to promote this upcoming event. I let you discover this short video with this link :
You can discover below this magnificent Artcurial catalogue. Loppé's paintings are presented at the end of the catalogue, chronologically, by centuries and periods.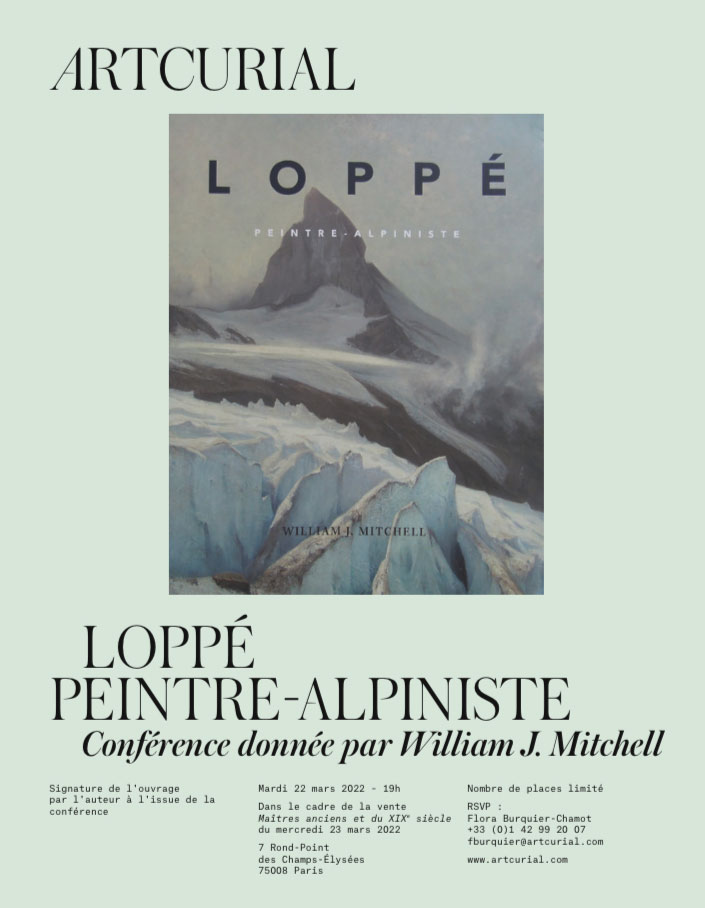 William Mitchell has acted on behalf of Artcurial as an independent expert in cataloguing both pictures for the auction. On Tuesday 22nd March at 7pm CET, William will give a lecture and book signing at Artcurial in Paris on the life of Gabriel Loppé. Places are limited. If you wish to attend please contact:
Flora Burquier : +33142992007
fburquier@artcurial.com
Do not hesitate to share this information around you. If you know of any patrons who would be willing to invest in acquiring the two paintings by Gabriel Loppé and make them available to the public in a French museum, that would be fantastic…
---
Maîtres anciens & du XIXe siècle
Paintings, drawings, sculptures
Wednesday 23 March 2022, 6pm

The catalogue for Maîtres anciens & du XIXe siècle, to be held on Wednesday 23 March at 6pm, is now online.
A masterpiece of Western painting, Le panier de fraises des bois by Jean-Siméon Chardin, from the Eudoxe Marcille collection, will be featured in the sale.
More than 180 paintings, drawings and sculptures from numerous private collections such as the Edmonde Charles-Roux collection, that of Raymond Marcel, the collection of the Marquis de l'Hôpital, the Ernest Desurmont collection or the formidable rediscovery of an element of predella from Santa Maria Novella in Florence by Bernardo Daddi, from the Johann Anton Ramboux and then Baron Jean-Baptiste de Béthune collections, will also be on view at this sale.